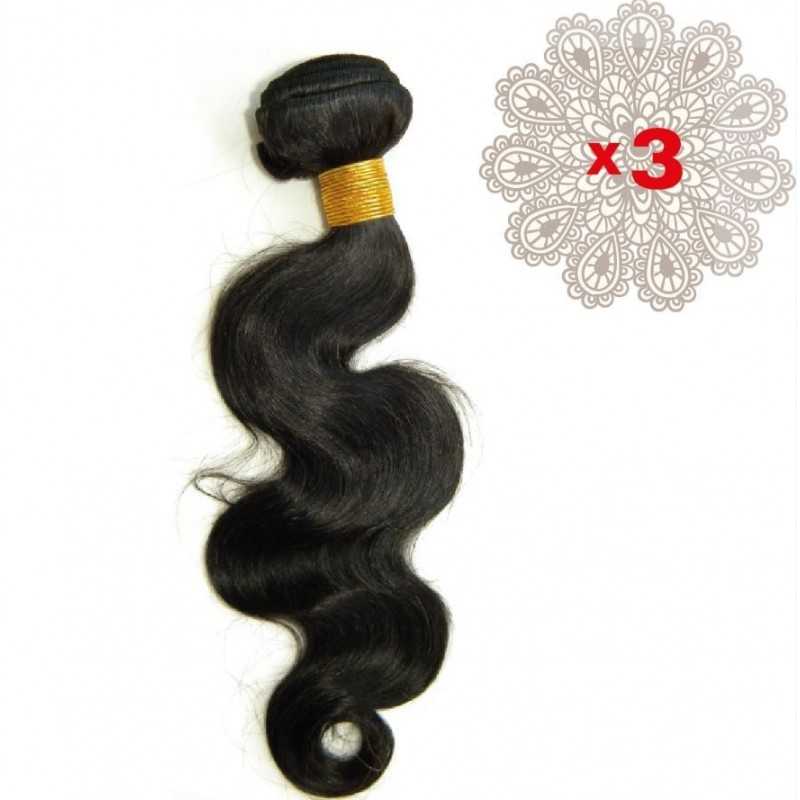  
3 paquets batch of 16 inches indian big wave hairs
3 paquets batch of 16 inches Satishair natural indian big wave hairs
Silky touch and united color for this natural and cheap weaving. Undetectable once set on the scalp. Maintain regularly to lenghten the reuse lifetime. Satishair quality guaranteed. This promotion is non-accumulative. In this batch one paquet is free. Enjoy entirely of Satishair products.
3 paquets batch of 16 inches Satishair natural indian big wave hairs
The quality for this indian weaving is non remy hair.
Enjoy the very good value for money.
The application on hairs doesn't require any stick unlike hairs extension, so this is more natural.
Yet your hairs have to be relatively solids to wear a weaving.
Moreover the quality of the weaving is determining, which is reassuring for you because Satishair only sells weavings of quality.
A weaving composed of synthetic hairs will have a lifetime much more shorter than a natural hairs weaving that you can keep more than one year (by taking it off regularly : around every 2 months).
You can wash an indian weaving but remember to untangle with your fingers during the washing.
Then you can apply like for natural locks a serum or a non greasy spray.
To keep the big wave effect, you can make two bunches before going to sleep but don't squeeze them too much.
Remember also to wear a scarf especially one made of silk.
NATURAL INDIAN BIG WAVE HAIRS
Hairs are in their most natural state with their original color.
The indian weaving color is so natural black.
Out of its natural aspect, the indian weaving fits people of afro, west indian, half-blood or north african type.
Indian weaving is guaranteed to be of quality and AAA grade.
All virgin locks have never been treated chimically and have been selected among the most beautiful and shiny ones.
If you desire a real superior quality, we recommand you our remy hair 6A range.
To do your hairs, use a soft breastles brush to avoid to lose a lot of them.
To maintain them, use nutritional serums or detangling sprays.
Never use greasy products, only slight ones !
Take care of your weaving.
Avoid to put too much products on it to avoid bad smells and think of washing them.
Numerous perfumed sprays exist on the market.
Don't keep a weaving more than a month on your head.
Wash it and reuse it.
Choose a good hairdresser to do it. :)
Be aware of the fact you have human hair between your hands and this requires a similar maintain than your own hairs' one.
Frequence of change : every two months maximum.
It's recommanded to take off your weavings because your hairs will have grown.
How to maintain weavings ?
Attach the hairs during the night, put a silk scarf if you want to avoid frictions.
Brush them when you awake.
Be careful : don't brutalise the locks by pulling them.
Use a detangling water.
Wash your weaving like your own hairs with soft shampoos.
Wash your hairs one time per week minimum and favour the low poo method (one cork of shampoo max per washing).
Be careful to not rub your skull to much at the risk of undo the braid behind the weaving.
You can use a cream conditioner for every washing.
Rinse then untangle the wet weaving with your fingers for start then with a special brush with spaced out and round tooth.
Dry carefully your hairs.
Data sheet
Marque

Satishair

Taille Pouce - CM *

16 pouce - 40 cm

Color

1B: la couleur 1B correspond à un NOIR NATUREL - "Off Black"

Qualité

Non Remyhair

Weight

3 x 100 grammes soit 300 grammes

Type de pose

A tisser

Coutures de la trame

Machine

Nombre de paquets de tissages pour une tête entière **

2 paquets de tissage 100 grammes

Forme de tissage

Tissage ondulé - Tissage Big wave